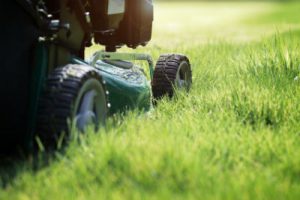 We all know that dreaded feeling of pulling the lever to start our push mower. It's like our mowing warm-up is a bicep curl using the tiniest handle on the planet. And there is nothing worse than a mower that is slow to start, and you have to pull, and pull, and pull . . . and pull, before the thing finally cranks. Isn't there a better way to determine what kind of lawn mower you need for your yard – including one that will be easier to start?
Here are a few pointers for choosing lawn mowers based on your yard's maintenance level.
Low – If your yard is lacking in grass, but your neighborhood still requires the grass you have to be cut regularly, you may find that low-maintenance lawn mowers are your best option. Not only are there motor-less lawn mowers that will do the job, but they may even take less time and energy than cranking up a big mower for a small patch of grass.
Medium – Let's say you have a small front yard that needs some attention, but your backyard is mostly pine straw or requires very little maintenance. Medium-level lawn mowers are perfect for this situation. They may require a few pulls to start, but you can most likely finish your mowing chores in half an hour or less.
High – One of the most beautiful things about an elaborate, beautiful yard is that you get to enjoy the scenic landscape. However, you can only see the landscape if you keep the grass cut at a manageable level. So, whether you like to collect your grass for composting or you don't want to spend three days working on it with a push mower, high-level lawn mowers offer the best options for you. While these may have a higher price tag, you'll enjoy them because of their time and energy savings in the long run.
At Yard & Nursery Depot, we sell a wide variety of Toro lawn mowers and can help you choose which one will best suite your maintenance level. Stop by today to learn more about lawn maintenance and how your lawn mower can work for you.