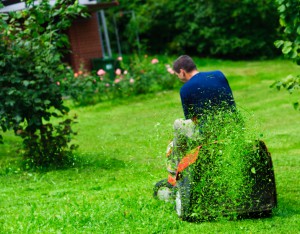 You probably easily remember to have your vehicle serviced. After all, that light comes on to remind you it is time. Lawn mowers do not have that flashing "Needs Service" light, but that doesn't mean they don't need attention on a regular basis, as well. And, just as your vehicle will be in the shop for repair if you neglect servicing, so will your lawn mower.
Don't wait until your lawn mower goes belly up. The first thing you should do when you bring home your new mower is read the owner's manual. It will give you useful tips about how to care for it. They want to be sure you are happy with your mower, so when it does wear out many years from now, you will feel good about the company and buy from them again.
There are plenty of maintenance issues regarding lawn mowers, and you might not want to be burdened with them, or have the time or right equipment to do them properly. That's okay because there are professionals who can help you out. They will handle dealing with blade sharpening, tune-ups and even winterizing it for you at the end of the season. If you keep the undercarriage cleaned out and check any fluids, you should enjoy your lawn mower for many years to come.
At Yard & Nursery Depot in Hampton, TN, we offer a variety of services, including repair and service of lawn mowers, up to and including small engine repair. We are also a distributor of Toro lawn mowers, should it be time to replace yours. So if your lawn mower is belly up, or if you want to keep it from getting that way, give us a call. We are your one stop shop for all your lawn and garden needs with an experienced staff and over 20 years serving the area.