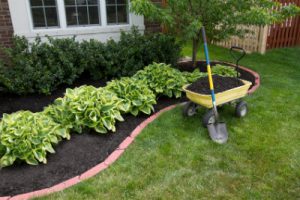 Do you hate the idea of doing yard maintenance, but all your neighbors seem to have the perfect lawn? Do your trees and shrubs need trimming, but you don't know the first thing about where to start? If you are a homeowner who is clueless about how to do proper yard maintenance, don't worry– you're not alone. Luckily, at Yard & Nursery Depot, we are here to help you achieve your best yard without the hassle and worry.
Whether you need a new lawn mower, aren't really sure where to begin with lawn care, or you would love to have a new landscape design, when it comes to yard maintenance, we can do it all. Our goal is to make sure you feel confident in your outdoor space, so you can enjoy being outside when the time is right. We can help make the path to your front door more inviting, make sure your grass is green and lush, and even help with pruning and trimming, so your plants look their best and can weather every season. Our knowledgeable team has been helping homeowners with their yard maintenance needs for over 20 years, and there isn't any project we can't handle!
At Yard & Nursery Depot, we are happy to be your one-stop-shop for all your garden supply and yard maintenance needs, and we provide the comprehensive services to "keep up with the Joneses". Just give us a call or stop by today to learn more about how we can assist you. You'll love the end result!