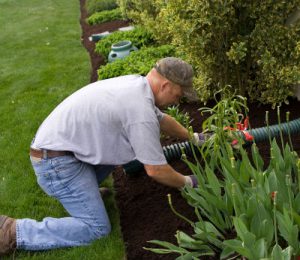 Are you tired of looking at brown grass and half-dead shrubs? Do you hate mowing the lawn but feel like it is a necessary task? When it comes to yard and lawn maintenance, getting down and dirty can be a hassle. Luckily, you have options for keeping your lawn looking great when you inquire about professional landscaping. Here are three great reasons this may be the perfect solution for you:
Knowledgeable Maintenance – When you call about professional landscaping, you are going to enjoy knowledgeable staff members who know exactly how to care for your lawn at every stage. Whether you have newly seeded grass, you just planted new trees, or your landscape just need a sprucing up, your yard will look its best without all the hard work.
Seasonal Care – Different plants have different requirements throughout the year. With professional landscaping, you never have to worry that you didn't give a plant the proper care to make it through the winter or you clipped it back too far.
Perfect Yard – The best part about professional landscaping? You don't have to be a professional gardener, but you sure do get to look like one! You'll find that you enjoy your yard more, and passersby will see that you do indeed have the perfect yard in your neighborhood!
At Yard & Nursery Depot, we'll be happy to help your yard and garden look their best. Our professional landscaping services are designed around your needs, so you can always feel confident your outdoor space is healthy and looking great. Just give us a call to inquire about our services, and we'll get you started on the path to the perfect yard.