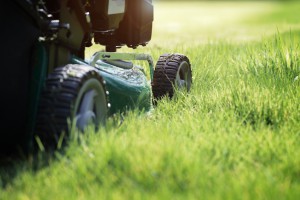 There is a reason why Toro has been around for over 100 years. Actually, there are a few dozen reasons, and that is why Toro lawn mowers are trusted by homeowners, professional contractors and even golf courses. Their motto, "Count on it," pretty much sums up why Toro lawn mowers are such a wise purchase.
Toro makes both riding mowers and lawn mowers, along with snow blowers, utility vehicles, yard tools and much more. There are plenty of different types of Toro lawn mowers, including their TimeMaster® line. Whether you want a simple push mower or something that does most of the work for you, you can't go wrong with a walk behind lawn mower. In widths from 20" to 30", you can choose one that works well with the space of your lot.
For larger properties, consider the Toro lawn mowers that you ride on. These riding mowers come in widths from 32" to 60" to make quick work of a large parcel of land or if you simply want to get done in fewer passes.  There are many different levels of riding mowers from the TimeCutter® SS series to the TITAN® MX series.
If you are looking for a basic mower or the highly sought-after zero turn behemoth deserving of the Titan name, you can find them here at Yard & Nursery Depot in Hampton, TN. Not only are we a distributor of Toro lawn mowers, but we do Toro lawn mower repair, as well, on the rare occasions when they break down.  We provide lawn care services, so we know what works, and we trust Toro. You can count on them, and on us, for the best in products and services related to your lawn and garden needs.