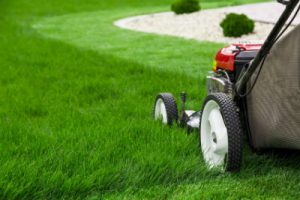 When it comes to lawn care, you may have negative feelings about pulling weeds and mowing the lawn. At the same time, you may be competing with your neighbor across the street over who has the best grass or who can add the next best yard ornaments. In order to balance the two – lawn care and an outdoor oasis – there is one great option for you: professional lawn care services.
Grass – When you utilize professional lawn care services, you never have to worry about your grass being too tall (or too short) and you may find that it is healthier and more lush than ever before. A professional company will know how, when, and where to care for your grass so it looks its best all year long.
Trees & Plants – In addition to your grass, your trees and plants may enjoy a little TLC with professional lawn care services. Whether they receive more watering or a few necessary trims for healthy growth, your entire lawn will begin to look its best.
Aesthetics – Once you start to see the results of professional lawn care, you may find that the overall aesthetics of your yard are much improved. That means you'll enjoy your outdoor areas more because of their natural and healthy beauty. What's not to love about that?
At Yard & Nursery Depot, we are happy to assist you when you feel that professional lawn care services will help you achieve a happier and healthier yard. Just give us a call, and we'll be glad to assist you!