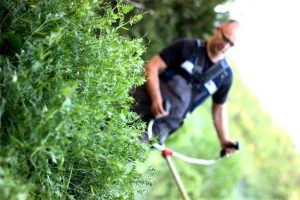 Making the switch from an apartment to a house can be an exciting experience. You have more privacy, more space, and above all else, you have a yard. However, you soon discover just how painful yard maintenance can be: weeding, mowing, trimming, watering, and pruning are the price you pay for owning a home with a yard. Weeding can be an especially daunting task. You pick every weed you can find only for a dozen more to pop up within a couple of days. What can you do? You want the great outdoor area, but the weekly yard maintenance you must do to ensure that area stays that way can be exhausting. We at Yard & Nursery Depot are the answer.
Our professionals can take over these tasks, leaving you to enjoy your gorgeous landscape. We provide full-service care, so you don't have to worry about anything, especially those pesky weeds. The services we provide include:
Routine Lawn Care – We'll keep your yard looking trim and wonderful year-round, particularly during those spring and summer months.
Professional Landscaping Services – Take your outdoor area to a whole new level with our expert help in designing an elegant space to inspire the imagination.
Plant Nursery – With a variety of plants to choose from, you'll be sure to find what you're looking for.
No matter what type of yard maintenance you're looking for, we'll have you covered at Yard & Nursery Depot. With our team of experts, we'll be sure to help you manage your outdoor area, customized to your tastes. If you're interested in learning more, contact us today.