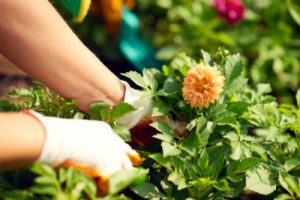 If your neighbor's yard is always the talk of the neighborhood and you feel like your yard is sub-par, you may be wondering how you can achieve a better-looking outdoor space. Sprucing up your flower beds and planting new trees can be an improvement – but what will really allow your yard to shine? When you need an outdoor living area overhaul, you will love these benefits of landscape design:
1.   Perfect Design – Landscape design takes into account the slope of your yard, where you get sun and shade, and how to create a landscape that is inviting and beautiful all year long. You will want to spend more time looking at your actual garden than you will at your landscape magazines!
2.   Perfect Plants – It's important to choose the right plants for your space according to their best climate and your comfort level when it comes to maintenance. Landscape design can often use native plant species that will thrive during every season, so you get full enjoyment out of your yard.
3.   Outdoor Oasis – Once your landscape design is complete, you have complete permission to throw your feet up, BBQ outdoors, and give your neighbor a run for their money with your new outdoor living area. You'll love having the option to enjoy your morning coffee outdoors or spend the weekends with your friends basking in your new landscape.
If you would love more information about professional landscape design, give us a call at Yard & Nursery Depot for all your needs. We'll be glad to discuss what you envision for your yard and how we can help you turn it into a reality.