There are a number of reasons to shop at a local nursery in Hampton.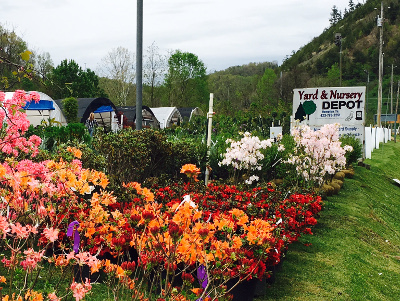 As the spring season starts to roll around, many home and property owners are thinking about their yards and gardens. Planting flowers, trees, shrubs, and other plant life is a great way to improve the appearance of your outdoor space, increase the property value, and create an appealing area where you and your family can spend time together. At Yard & Nursery Depot, we carry a wide variety of plants and flowers to help you create the perfect outdoor oasis.
While big-box retailers might carry plants, there are a number of reasons to shop at a local nursery in Hampton, Tennessee. Our staff members understand plant life and help keep the plants in the nursery healthier and thriving. We also carry more options in terms of species and sizes of plants, so you can find a rare tree or flower that won't be carried in most other stores. Our employees are always available to answer questions, helping you make the right choices and selections when it comes to plants. It may seem like a good idea to shop at a cheaper store for your flowers and plants, but many companies buy them in bulk and don't have the time or resources to care for them and keep them in good health until you purchase them.
We also carry native plants at our nursery, allowing you to opt for plant life that will thrive in our climate. Whether you need trees, seeds, shrubs, watering supplies, or fertilizer, we have it all. Stop by today or feel free to call us with any questions you may have about our nursery.
---