We carry everything you need and more at our nursery to keep your landscaping looking great.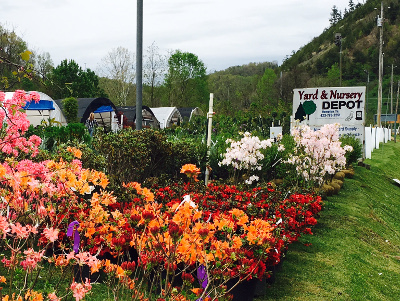 Your local nursery should carry everything you need to keep your landscaping looking great throughout the year. This is where we come in at Yard & Nursery Depot. From flowers, mulch, and plants to pumpkins, Christmas trees, and other seasonal products, we guarantee you won't want or need to go anywhere else after you visit our nursery.
We realize that the climate here in Eastern Tennessee and Western North Carolina ranges from an altitude of 3000' to over 5000' and is definitely unique. It's important for the plants in your yard to withstand whatever weather might hit. As a local business, we only carry plants we know will thrive in our climate, and we will help you find the right ones based on your needs.
We also realize that when you visit our nursery, you will either know exactly what you need or you will need help figuring out which plant to go with. In either situation, we'll give you guidance and helpful advice. We value customer service at our nursery and always want you to leave happy that you came to visit us.
What makes our nursery really stand out, besides our commitment to customer service, is that we keep our prices low. This way, your budget doesn't become an issue when you're working on a gardening project or sprucing up your landscaping in any way.
At Yard & Nursery Depot, we can't wait to have you visit us at our nursery. If you have any questions, please feel free to stop by or simply pick up the phone and give us a call.
---
Similar Services We Offer: